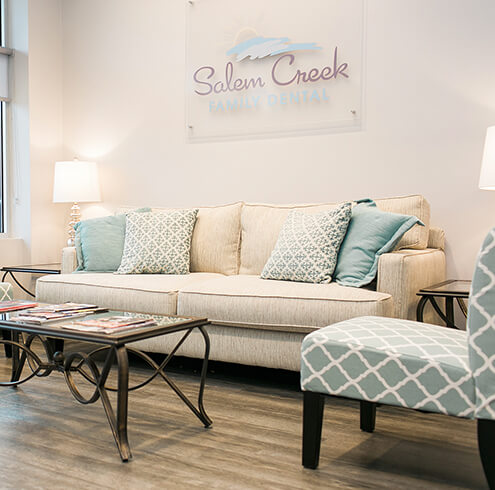 About

Our Office
At Salem Creek Family Dental, we want to create a warm and inviting atmosphere for our patients that feels much less like a dental office and a lot more like home. We work with kids and adults alike and encourage families to schedule family block appointments with our team so the entire household can have their routine care taken care of in one day. We also accept emergency appointments, so should you or a loved one need to see an experienced dentist in Murfreesboro right away, please give our office a call.
If there's anything we can do to make your visits better, please let us know, and we will do our best to accommodate you!
Contact Us
Modern Dental Technology
Our office invests in the latest dental technology to keep our care as comfortable, effective, and efficient as we can. We use a digital scanner instead of taking traditional dental impressions, which means patients can receive highly accurate impressions without having to bite down into a tray of goopy dental putty. Our digital X-rays capture detailed images within seconds and emit far less radiation than older X-ray machines. We even utilize intraoral cameras so that both the doctor and patient can get an up-close view of the patient's teeth and gums.
Kid-Approved Care
Salem Creek Family Dental accepts patients of all ages, but we have a special place in our hearts for working with children and teaching them the importance of dentistry and taking care of their oral health. While every patient is unique, we recommend that every child begin attending regular visits around the time they turn one or when their first tooth grows in, whichever happens first. Our lobby contains a kids' play area full of books and toys, and after every successful dental visit, our young patients are welcome to pick out a toy from our prize box. We want our pediatric patients to have positive dental experiences so they enjoy their dental appointments now and for many years to come!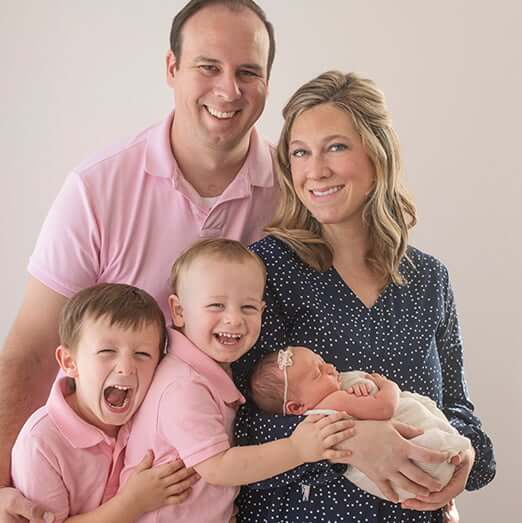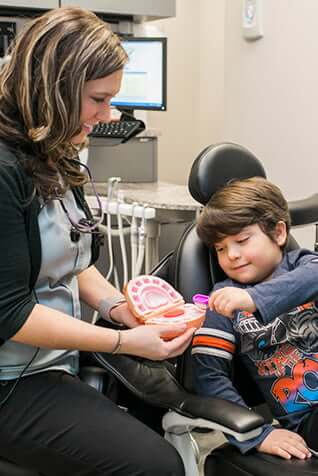 Dr. Ashley Costello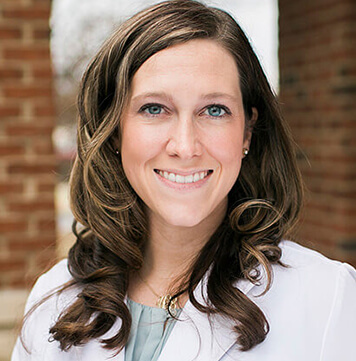 After growing up in Murfreesboro, Dr. Costello attended the University of Tennessee in Knoxville and then went on to earn her dental degree from the University of Tennessee Health Science Center in Memphis.
After spending two years practicing dentistry in Houston, Texas, she and her husband, Nick, decided it would be best to relocate back to Tennessee to be closer to family. Dr. Costello could not be more excited to be practicing dentistry in her hometown of Murfreesboro, Tennessee.
Dr. Costello truly enjoys fostering relationships with her patients. She shows this same passion for people both locally and abroad and hopes to spread the love of Christ through her gift of dentistry. She participates in dental mission trips and also volunteers with the Dentistry from the Heart and Hope Smiles organizations.
In her spare time, Dr. Costello enjoys running, shopping, and trying new restaurants. She and her husband have three kids, Conner, Camden, and Chloe, who all enjoy visiting the office frequently. The family also loves spending time with their dog and cat, Bonzo and Cooper.
---
Dr. Amber Sifuentes
Dr. Amber Sifuentes was raised in Ripon, California, a small town located in the northern region of the state. She earned her Bachelor of Science in Biology at California State University Stanislaus, where she was involved in many extracurriculars and enjoyed giving back to her community. Dr. Sifuentes moved to Utah where she received her Doctor of Dental Medicine degree at Roseman University of Health Sciences, located in South Jordan.
After spending four years in the beautiful state of Utah enjoying the outdoors, and with frequent visits to Tennessee, Dr. Sifuentes decided to move to Nashville, TN to pursue her career in dentistry alongside Dr. Costello.
Dr. Sifuentes has always had a passion for helping others and has a huge heart for providing care for her community. She is looking forward to building relationships with patients and putting patient comfort as her top priority. She is excited about becoming a member of and serving the Murfreesboro community!
Outside of dentistry, you can find Dr. Sifuentes exploring her new city in Nashville, spending time with family and friends, and enjoying the outdoors! She also loves spending time with her dog Roman, who has been by her side for 9 years!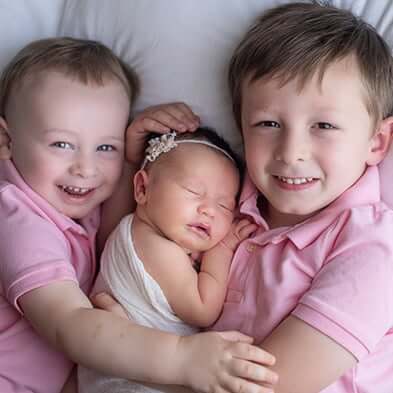 Ambassadors of Goodwill
Conner, Camden & Chloe Costello
When you enter our office, you may be greeted by one, two, or possibly three of our Ambassadors of Goodwill. They often spend their time in the office playing in the lobby, hiding under counters, or reviewing treatment plans with patients (okay not the last one, but just give it a few years!) When Conner, Camden, and Chloe are not working in the office, they enjoy spending time with family, playing with toys, and sharing food with their dog. Even if you don't need to see the doctor, drop in and say hi. They will be glad to see you!
Caitlin
Registered Dental Assistant
Caitlin has been in the dental field for a little over two years. She is from Coffee County, TN, and graduated from The Tennessee Professional Training Institute with her RDA license. During her free time, she enjoys spending time with her family and going bowling.
Jessica
Insurance Coordinator
Jessica has been in the dental field for 10 years. She is a registered dental assistant as well as our insurance coordinator. Not only is she efficient in handling the insurance needs for our office, but she is also one of the smiling faces that may greet you when you walk in! Jessica and her husband moved to Tennessee from Wisconsin in 2017, and they are happy to call Tennessee "home." They are also die-hard Milwaukee Brewer fans!
In their spare time, Jessica and her husband enjoy riding their motorcycle and spending time outside with their puppy, Waylon. Jessica and her husband welcomed their new baby boy in December of 2020.
Salina
Scheduling Coordinator
My name is Salina. I am originally from Turlock, California but moved to Middle Tennessee in the summer of 2022. I joined Salem Creek Family Dental January of 2023 and I have been in the dental field for since 2017. In the office you will usually find me at the checkout desk scheduling your next appointment and/or in the operatory with you reviewing treatment plans. What I love the most about Dentistry is when a patient leaves with a smile of their face and the confidence of understanding their dental needs.
Outside of work, you can find me traveling and exploring this beautiful state. I really enjoy spending time with my sisters, nephews and friends and you can always catch me with a coffee in hand, laughing and smiling.
Natasha
Hygienist
Natasha is a passionate hygienist with over 12 years of experience. She is a cum laude graduate of Tennessee State University, holding a degree in dental hygiene. Natasha takes great pride in providing thorough, comforting, and patient dental care. She is a Tennessee native, born and raised, and she loves being a boy mom of three rambunctious boys. During her free time, she loves watching movies, spending time with family, being beachside, and acting as a personal chef for her household.
Oriana
Patient Liaison
Hi! My name is Oriana and I was born and raised here in Murfreesboro, TN. I just recently joined Salem Creek Family Dental in February of 2022. Although I haven't been in the dental industry very long, my love for it has quickly grown. One of my favorite parts so far is when patients leave happy with their smile or happy knowing there's a plan to get them where they want to be.
In her spare time, Oriana enjoys catching up with friends and family. One thing to know about her is that she is incredibly family oriented. She comes from a big family. Therefore, she always wants to make sure she stays in touch and takes care of them in whatever they need.
Kat
Registered Dental Assistant
I'm Kat and I was born and raised in Smyrna, TN. I have been in the Dental Industry for a little over 8 years and my absolute favorite thing about it is all the different people you meet on a daily basis!
When I'm not working, I enjoy hanging out with my family and friends, being outdoors but only when it's warm. (I highly dislike being outside in the cold!) I'm passionate about Jesus, iced coffee, Auburn Tiger's football, and being a good wife to my husband and mama to my three kiddos!
Brittany
Hygienist
I was born and raised in Bakersfield, CA and moved to the Murfreesboro area in June 2022. I love getting to know patients and making people feel good about their smile, which I have had the pleasure of doing for over 8 years now.
In my spare time I like to make t-shirts, crafts, and watch movies. My favorite thing to do is to spend time with my husband and two kids. We LOVE making trips to Disney or traveling to explore someplace new. I look forward to meeting you at your next appointment!